It's finally here! Today I had my last exam (Programming Languages), and I even think it went quite well. And what does that mean? Vacation time, baby! I can't wait to get home for a few weeks. My train leaves about 8:30 tomorrow – and about 5 hours after that I'll be home with my mom and sister. Later, somewhere in between christmas eve and new years eve I'm heading to good ol' Dokka, with a few days with my father and old friends. I look forward to seeing you all soon! 🙂 Although I bet it's freezing there… *brrr*.
On another subject: I went to see see Avatar (in 3D of course) today. Man, it was such an epic movie! I loved every tiny bit of it! I watched it tonight, and it was so worth it! 🙂
The last week or so I've worked on a new little project. It's a program to list all the new episodes of various series released on eztv.it. It's written in Python, I'll make it available on my programming page after I'm done writing this blog entry. Anyone interested are free to use it, of course. 🙂 Below is a screenshot for those who are interested.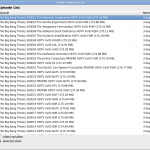 Last I'd like to say Merry Christmas and a happy new year to everyone! I hope you'll all have a good one! 😀