It's soon christmas. That entails that it's soon gingerbread time. Actually, yesterday we made a gingerbread house here. We're fortunate enough to have a construction engineer living here, so the result was quite awsome: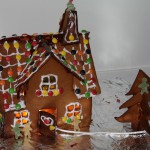 To change the subject completely, I finished my first exam yesterday (5th) in Operating Systems. I think it went quite well. Next one is 8th, 10th and finally 18th. Then I'm going home on vacation, and it's going to be great. And just to be completely random: I love Chrome. With the recent support for extensions, and a usable Linux version, I use it as my default browser for the time being.
One thing I missed this weekend was Dokka-LAN. I really wish I could be there, but hey, that's life I guess. 😛 I hope everyone had fun!
Also, if you want to follow this blog in any way, feel free to use the RSS feed (http://hallgeir.org/feed/). 🙂